Once again an innocent man is killed by cops. In this case they went to the wrong house, DID NOT IDENTIFY THEMSELVES AS POLICE, their victim not knowing who was pounding on his door at 1:30 am went to the door carrying his gun, WHICH IS LEGAL IN THIS COUNTRY, APPARENTLY EXCEPT IN FLORIDA, and one of the at the very least incompetent cops, instead of saying we're police drop your gun, chose to murder him.

Lee Murray


Updated: 9:23 p.m. Monday, July 16, 2012 | Posted: 6:59 a.m. Sunday, July 15, 2012
Deputies knock on wrong door, shoot, kill armed Lake Co. man
LAKE COUNTY, Fla. —
There are growing concerns that three
Lake County
deputies were out of line when they charged into an apartment complex looking for a suspect and killed an innocent man instead.
On Monday night, friends of Andrew Scott laid flowers on the front step where he was shot and killed.
"Certainly, the police will be held accountable for this by way of a wrongful death suit," said WFTV legal analyst Bill Sheaffer.
He believes it all has to do with the fact that the deputies did not identify themselves when they pounded on the victim's door in the middle of the night.
Officials said the incident started when deputies were looking forattempted murder suspect 31-year-old Jonathan Brown at the Blueberry Hill apartment complex on Ryan Drive in Leesburg.
According to authorities, Brown fled from deputies on a motorcycle, which they later found parked in front of Apartment 114. However, that was not the apartment in which Brown lived.
Three deputies were in uniform when they banged on Scott's door of Apartment 114 around 1:30 a.m. Sunday, believing Brown was inside.
Deputies said they
admit they knocked on the wrong apartment door
but said they had to open fire when 26-year-old Scott came out, armed with a gun.
Last time I checked it was legal to own a gun in florida, legal to use it to protect yourself and your home, and foolish in many areas to answer someone pounding on your door in the middle of the night without it. Now we know it's also legal for cops to blow you away, without identifying themselve or saying anything, not even "we're police drop your gun," which he probably would have. But what we seem to have is another cop eager to use his gun to murder, knowing that uner color of authority he's almost sure to get away with it.
Scott was shot and killed, according to the
Lake County
Sheriff's Office.
Originally, the Sheriff's Office said deputies had announced who they were.
But an email the Sheriff's Office sent Sunday revealed deputies "didn't announce and identify themselves" and called it a "minor detail."
And on Monday, the Sheriff's Office told WFTV's Kathi Belich that deputies didn't have to identify themselves at all.
A spokesman with the Sheriff's Office told Belich that all deputies saw when the door opened was the muzzle of a gun, and
they did what they had to protect themselves
.
But friends of Scott WFTV talked to said deputies are painting him in the wrong light.
A friend of Scott's called him a gentle giant and said he's the one who gave Scott the gun for his protection. He said Scott had just gotten home from working late when the deputies came to his door.
"They banged on the door. They didn't yell out, '
Lake County
Sheriff!' They weren't being loud; vocal. The guy opened the door at 2 in the morning," said a witness who did not want to be identified.
"I saw him six hours before (the shooting), and he was fine," said one of Scott's friends. "When I heard about it I thought it was a joke."
"Drugs and drug paraphernalia were found in Scott's home", deputies said
.
(quotes are mine, because who knows whether they were really found, or planted there. In addition, so what? That doesn't justify the murder by deputy Richard Sylvester.)
K-9 Deputy Richard Sylvester, who shot and killed Scott
, was wearing a black utility vest with the word "sheriff" on the front.
WFTV learned in the six weeks before Sunday's shooting, Sylvester has been working around 40 hours of overtime per two-week pay period.
WFTV asked if that could've been a factor.
"Regardless of how tired he was, regardless of how much overtime he had this week, or last week, or the last three weeks, or the last month, he took the action he was forced to take that given moment," said Lt. John Herrell of the
Lake County
Sheriff's Office.
No matter what, the Sheriff's Office said, Scott opened the door with the gun pointed at them, and at this point, there's no indication anyone said anything before Sylvester opened fire
.
"This individual was in his home. He was at a place he had a right to be. He's awoken early in the morning by someone banging at his door; certainly he had a right to go to that door armed," said Sheaffer.
In some cases, officers don't identify themselves for the element of surprise if they don't want a suspect to get away. But the only way in or out of Scott's apartment is through the front door and the front windows.
"The bottom line is police went to the wrong house. This was an otherwise innocent person, and he was shot to death," said Sheaffer.
The officers could have surrounded the front and then identified themselves, especially since the officers did not actually see Brown go into the door.
"It was the middle of the night, so they felt it'd be more tactically advantageous to just knock on the door, and that's what we did," said Herrell.
Oh yeah, I'm sure before they started pounding on the door they had a meeting and discussed various tactics and the advantages of each, yeah right, the reality probably is they ran in and started pounding, planning to kill the guy they were after with Sylvester chosen to do the wet work, and they went to the wrong door, murdering the wrong man.
"If the name of the law enforcement agency was announced, do you think this could've been prevented?" asked WFTV reporter Ryan Hughes.
"Well, based upon what we found inside his
home -- drugs, scales, pipes,
baggies -- I can't answer that. I don't know what he thought," Herrell said.
Sylvester never used his dog to track the suspect. Investigators said Brown's motorcycle was still hot and was parked in front of the door.
They eventually caught Brown at his apartment, which is in the next building.
Sylvester is now on administrative leave. He was also involved in last week's deputy shooting behind an Advanced Auto Parts store in Eustis.
WFTV was told he's a police dog handler and that he witnessed two other deputies kill Gilberto Rivera.
The Sheriff's Office said Rivera had just killed the auto shop clerk he was stalking and wounded another employee.
The deputy who fired the shot that killed Rivera has been placed on administrative leave.
Video about Scotts Murder
Andrew Lee Scott Dead: Lake County Police Fatally Shoot Wrong Man While Hunting Murder Suspect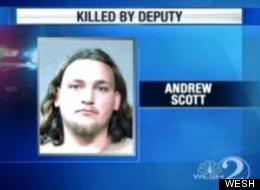 Police in Florida fatally shot an innocent man over the weekend after they mistook him for an attempted murder suspect.
Lake County sheriff's deputies were searching for
a man named Jonathan Brown
when they arrived at the Blueberry Hills Apartment complex in Leesburg early Sunday morning.
When the police banged on the wrong door, Andrew Lee Scott -- who did not expect visitors -- answered armed and ready, only to be fired at by the surprised officers.
"When we knocked on the door, the door opened and the occupant of that apartment was pointing a gun at deputies and that's when
we opened fire and killed him
," said Lt. John Herrell, according to WESH.
Officers admit they never identified themselves to Scott, a 26-year-old pizza deliveryman. Still, Herrell holds the victim at least partially responsible.
"It's just a bizarre set of circumstances," he said. "The bottom line is, you point a gun at a deputy sheriff or police office, you're going to get shot," Herrell said.
Jonathan Turley, a law professor at George Washington University, responded to the incident in his blog.
"This is technically
not a 'no knock' search,"
Turley wrote. "In such searches, there is no knock but the officers are supposed to announce their identities in going into the property... Indeed, I have criticized the increasing use of 'no knock' warrants."
Police later arrested Brown and another suspect at a second apartment building. The two are currently at the Lake County Jail, the
Orlando Sentinel
reports.
The Florida Department of Law Enforcement is investigating the incident and police authorities placed the officer who shot Scott on administrative leave.
Family hires attorney after deputies knock on wrong door, kill armed man
The family of an innocent Lake County man, who was shot and killed by deputies after they knocked on the wrong door, has hired an attorney. He talked exclusively to WFTV Thursday night.

Deputies killed Andrew Scott on Sunday when he answered the door with a gun in his hand, but deputies were at the wrong home.

Family were too distraught to talk, but their lawyer said they have a lot of questions and now want answers from authorities at the Lake County Sheriff's Office.

"Someone knocked on the door, and an innocent man died in his house, so there are a lot of questions," said attorney Jason Recksiedler.

Recksiedler told WFTV he plans to launch his own investigation into what happened.

This news comes as Scott's friends protested in front of the Lake County Sheriff's Office demanding answers.

"I think he did what he thought he should do to protect his family. He was scared," said Scott's friend, Michelle Evey.

Recksiedler said the family is also puzzled by authorities' constantly changing story.

They first said deputies announced themselves at the door, and later said they didn't.

Deputies claimed they were after an attempted murder suspect, when dispatch recordings show they were really after former Groveland police officer Jonathan Brown on a less serious offense.

"That forces us to dig deeper to get the truth of what actually occurred," said Recksiedler.

He said it's too early to say whether the family will file a wrongful death lawsuit.

For the first time on Thursday, the sheriff defended the actions of the deputy and said he had no choice when Scott answered the door with a gun.

"At that point he defends himself and shoots. It's an unfortunate situation," said Sheriff Gary Borders.

The sheriff also said his heart goes out to Scott's family and he plans to reach out to them after some time has passed.